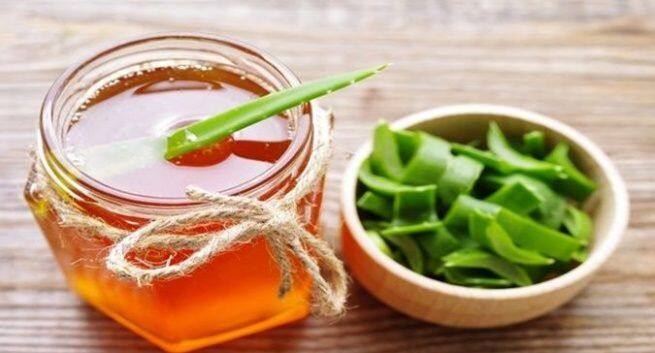 When your hair undergoes several chemical treatments like rebounding, smoothening, straightening, blow dry, etc. or if it is exposed to sunlight it can definitely lead to dry hair. Your hair becomes unmanageable and more frizzy than your usual texture. You need to take proper care of your hair in order to avoid such problems. Here in this article, we have mentioned a DIY remedy using aloe vera and almond oil for dry hair. Let us have a look at how to prepare this DIY hair mask.
DIY Overnight Aloe Vera And Honey Mask For Dry Hair
Ingredients:
2 tbsp aloe vera gel
2-3 vitamin E capsules
1 tsp almond oil
A few drops of lemon juice
How to prepare?
Step 1: Take a clean glass bowl then add fresh aloe vera gel into it.
Step 2: After that take out the vitamin E oil from the capsule and pour it in the bowl.
Step 3: Next, add the almond oil and squeeze a few drops of fresh lemon juice.
Step 4: Divide your hair into sections and start covering your hair with this mask from the roots till the tip of your hair.
Step 5: Once the entire hair is covered in this tie your hair into a bun and you can cover it with a shower cap and leave it overnight.
Step 6: Next day morning thoroughly wash your hair with a mild shampoo followed by a conditioner.
What are the benefits of these ingredients?
Aloe Vera: This plant helps in protecting the hair and also gives a smooth texture to the hair. Also, aloe vera helps in keeping both the scalp and the hair moisturised and hydrated.
Almond oil: Almond oil helps in making your hair smooth and soft because it is rich in magnesium. It will promote hair growth because it prevents the thinning of the hair. Also, the anti-inflammatory properties of almond oil will treat any inflammation on the scalp caused due to other infections and dandruff and other infections. For healthy and lustrous hair you can simply massage your hair with some almond oil regularly.
Vitamin E oil: This oil helps in maintaining strong and healthy hair and will help in rejuvenating the hair because it is rich in antioxidants. It will also improve blood circulation, prevent breakage and treat brittle hair.
Lemon: Lemon helps to boost the hair growth and in improving the collagen because it is rich in vitamin C. It will reduce hair fall and helps in strengthening the hair follicles. The antifungal properties in lemon help in treating dry scalp and dandruff.