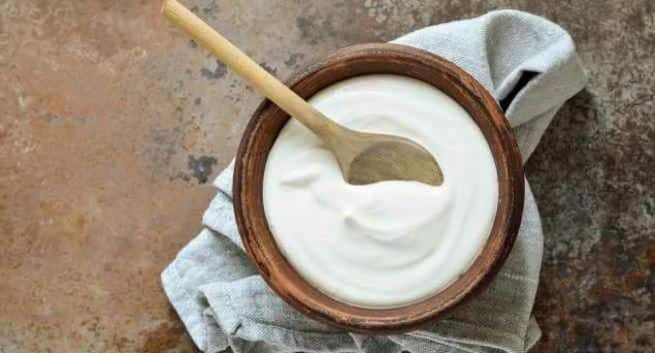 Yoghurt or dahi is one of the most integral parts of our cuisine. We all like to eat dishes like dahi bhalla, yoghurt smoothie, dahi kachori and so on. Yoghurt is a probiotic and can help you keep your gut health in top shape. Yoghurt can also help you get radiant skin and lustrous locks.
 It can help you moisturize your skin: If you apply yoghurt topically, it can increase the elasticity of your skin and can help you acquire glowing skin. Try this face-mask – take 2 tablespoons, 2 tablespoons of cocoa powder and 1 tablespoon of honey and make a paste of it. Apply it on your face and wash it after some time with cold water. This will make your skin soft and supple.
It can help you  banish wrinkles: Ageing is a natural process. Though you can't reverse it you can take some steps to slow it down. By adding yoghurt to your skincare regime, you will be able to fight signs of ageing like wrinkles and fine lines. Yoghurt contains lactic acid and it can exfoliate your skin by helping to get rid of those dead cells on your skin. Take 2 tablespoons of yoghurt and 1 tablespoon on oats. Mix both the ingredients and apply it on your face and wash it off after some time with cold water.
 It can help you to keep acne at bay: It can be a potent remedy for acne. Take some cotton balls and dip them in the yoghurt and apply it on the affected areas. Just stick to the area where you have acne. Later, wash it off with water.
It can reduce your hair fall: Many factors like faulty lifestyle, lack of essential nutrients and so on can cause hair fall. Since yoghurt contains vitamin B5 and D, it can provide nourishment to your hair follicles. Take 1 tablespoon of yoghurt and 2 tablespoons of ground fenugreek seeds and apply it on your hair. Shampoo after some time.
It can fight dandruff: Yoghurt has antifungal properties. Wash it off and shampoo your hair.