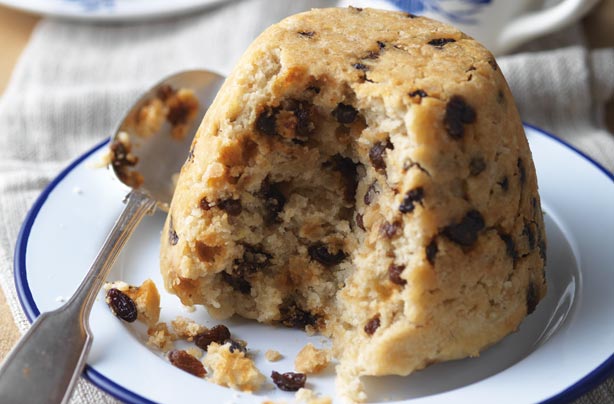 Spotted dick may have a name that only the British could love, but it's a dish the rest of the world could well learn to treasure, and not just for the laughter it inevitably prompts. A doughty mainstay of school dinners throughout the 20th century, this steamed suet pudding – pleasingly plain yet plump with currants – feels like the product of a different age in comparison with the obvious charms of last week's salted caramel brownie, possibly because it is. According to Regula Ysewijn's rightly lauded history of the British pudding, Pride and Pudding, the first recorded recipe appears in the Victorian celebrity chef Alexis Soyer's 1854 book A Shilling Cookery for the People alongside other old favourites such as rice pudding and gooseberry fool. Ysewijn also explains that, for all the amusement it causes today, "dick" is simply an old-dialect pronunciation of "dough", but that's the kind of disappointingly sensible detail we need not dwell on here. Instead, in the sad absence of school meals supervisors proffering chipped bowls of ambrosial stodge, this column will look at how to take a pleasant trip down memory lane from the comfort of your kitchen. Lumpy custard optional.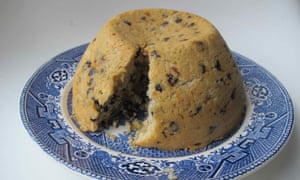 As the name suggests, this dish is all about the dough, and, though steamed puddings may have a reputation for heaviness, the suet should stop it being too Bunter-esque. This hard fat's high melting point means that the raw dough has time to solidify around the pellets before they dissolve, leaving a honeycomb of air pockets in their wake. Tom Norrington-Davies eschews it in his book Just Like Mother Used to Make in favour of butter, on the basis that "I have tried many 'Olde Worlde' versions and they can be very heavy", but, though his pudding is indeed rich, lovely and delicious, it is deemed to be more like a currant sponge than a spotted dick.
Conversely, Saveur magazine, published in the US where those familiar tricolour packets of shredded suet are, I suspect, rather harder to come by, calls for the fresh variety, chilled and grated. This is not difficult to find if you have an obliging butcher (I got mine for free), and is surprisingly easy to use. But for sweet puddings such as this, testers indicate a marked preference for the blander, more heavily processed commercial sort, as its pudding has a very distinct beef flavour – not unpleasant exactly, just unusual when combined with custard. (Vegetarians should note there are several varieties of meat-free suet substitute on the market these days.)
The raising agents
Norrington-Davies' version uses self-raising flour and baking powder, which would be belt and braces with a suet dough: Ysewijn, Saveur and Tim Hughes' J Sheekey Fish all go for plain and baking powder, while Delia Smith uses self-raising alone. One or the other is all that's needed, and I'm going to go for the former. Smith is the only recipe to bulk the dough out with breadcrumbs, giving it a pleasingly fluffy consistency, but unless you have some to use up, I don't think they make enough difference to recommend them.
The liquid
Ysewijn and Norrington-Davies both make their dough with eggs, but loosening it with milk alone gives a softer result: it should be robust, rather than tough. (You could use water instead, as Hughes recommends, but it won't have quite such a nice flavour.) Saveur also adds double cream in a typically American touch of decadence (cream being reserved for visiting parents in my schooldays), which gives their pudding a gloriously rich, melting quality – glorious, but, we all agree, quite unlike the spotted dick we know and love. They will be serving it with ice-cream next.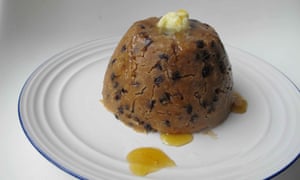 The flavourings
Sugar isn't mandatory – the plainest recipes rely on dried fruit alone for sweetness – but a little does wonders to lift the flavour, though there should still be a marked contrast between the slightly savoury dough and the currants and custard. Testers rate Hughes' soft, light-brown sugar, but you can substitute the white kind more often found in school kitchens if you prefer.
Ysewijn, like Soyer before her, flavours the dough with a pinch of cinnamon. Hughes goes for mixed spice, which I prefer, being more of a nutmeg and ginger fan, but feel free to use either – or indeed to leave the spice out altogether if you are feeling puritanical. Whatever you go for, however, the flavour shouldn't be overwhelming. You can also, like Smith, Hughes and Saveur, stick in some grated lemon zest, though I highly recommend trying my own innovation of candied peel; the little pops of bittersweet chewiness adding to both the texture and taste.
The fruit
What isn't optional is dried fruit, and ideally you should go for currants. Smith uses raisins, which swell to monstrous dimensions during the steaming process. Choose the more diminutive, and to my mind at least, more pleasing currant and you can soak it in alcohol first, as Ysewijn and Norrington-Davies suggest, for a spotted dick we would all have been coming back for seconds of at school. (If you frown upon such things, try plumping them up in fruit juice or water instead.) Smith also adds chopped cooking apples, which, along with the raisins and the dark brown sugar she uses, reminds us all of mincemeat. Never a bad thing, but not necessarily what you want from a spotted dick.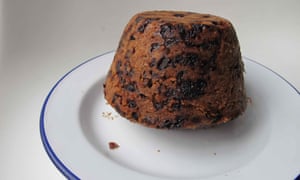 Shaping and cooking
Most recipes steam the dough in a basin, rather like a Christmas pudding, but, like Smith, I have a nostalgic fondness for the long sausages we were served at school, which seemed to explain the dish's unusual name to our teenage satisfaction. This method also has the benefit of requiring no special equipment beyond wrapping materials, which is always handy. (Ysewijn steams hers in the oven because she doesn't like to leave a pot boiling on the stove for several hours, which is not an idea I have come across before, but which works surprisingly well, especially if you are making a larger pudding.)
Unlike Smith, however, I won't be making it like a swiss roll, with the filling spread in the middle. Not only does this prove fiddly for an amateur like me, but risks dangerous cross-contamination with similarly happy memories of jam roly-poly. Which may well be a subject for another week.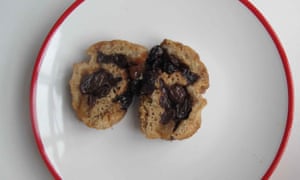 Serving suggestions
This is one of many occasions where custard is non-negotiable, and nothing for me will ever beat the Bird's version (powder not packet, thank you), though heathens among you may prefer to make your own. If you are really pushing the boat out, I also recommend Hughes's tip about golden syrup and butter, given to him by an "old gentleman" on a train. (Possibly the ghost of Alexis Soyer, given he suggested topping spotted dick with melted butter and sugar 163 years ago. For all our talk of date molasses and coconut butter, it seems our tastes in the pudding department haven't changed much since.) Whatever you go for, however, you have still got to have custard as well. Did I mention that?
Serves 4-6
2 tbsp brandy, rum or whisky (or water)
75g currants
150g plain flour plus a little extra to dust
2 tsp baking powder
2 tbsp soft light brown sugar
Pinch of salt
¼ tsp mixed spice (optional)
75g shredded suet
20g candied peel or grated zest of half a lemon
100ml milk
Custard, to serve (not optional)
Warm the alcohol or 2 tbsp water and then pour over the currants. Leave to sit for at least 30 minutes.
Turn on to a lightly floured surface and shape into a fat sausage about 15cm long. Wrap loosely in greaseproof paper or cheesecloth, twist the ends to seal and tie with string. Wrap in foil, then steam for two hours.