Strawberries, as a rule, are above cooking. The season for really good fruit is so short, and that fruit's perfume so very delicate, that to gild the lily with anything other than a dollop of dairy would be sacrilege – as soon as it meets heat, that fresh acidity is gone for good. If you want to cook a strawberry, use this jam recipe. Occasionally, however, the occasion demands something a little fancier than a dish of fruit and cream – like a classic fruit tart, that pretty stalwart of the French patisserie with its shiny berries and crisp golden pastry. But what's the best way to dress up summer's first and, arguably, finest fruit without spoiling it?
The pastry
The classic choice is pâte sucrée, a crisp, sweet shell rolled elegantly thin, and favoured by both chef Pascal Aussignac and Dr Tim Kinnaird in his book Perfecting Patisserie. As this title suggests, the latter gives very clear instructions on how to achieve sucrée success, starting by beating together the butter and sugar until fluffy, adding ground almonds and vanilla seeds, then slowly stirring in the egg before adding the flour all in one go because "the longer you take to incorporate [it] the greater the chance of developing too much gluten, which will make the pastry tough".
Unlike the shortcrust I'm more familiar with, pâte sucrée dough is very soft and delicate, which makes chilling it for quite some time before baking mandatory if it's not to collapse in the heat of the oven. Though undoubtedly delicious, it's so much more of a faff than the rich, sandy shortcrusts deployed by Nigel Slater and the recipe in Rosemary Shrager's Bakes, Cakes and Puddings that I'm disappointed none of the testers remark upon its delicacy. Perhaps in another, more highfalutin context, the difference would be evident, but for the simplest of fruit tarts I'm after here, such a palaver doesn't seem quite necessary.
Martha Stewart's pastry, however, makes even shortcrust look like a hassle. Flour, butter, sugar and salt are whizzed together to form damp crumbs (no liquid is added), which can then be pressed into a tart tin, frozen briefly to firm it up, and then baked. No rolling out to cope with, no floury surfaces to wipe afterwards, and the most delicious crunchy, buttery sandy result, rather like the crisp shortbread that pairs so well with a dish of strawberries and cream. It's completely foolproof, which is frankly what one needs when dealing with pastry at the height of summer, and stupidly lovely. Sold. (I try to find out the proper name for this pastry via the learned medium of Twitter, and come to no firm conclusions – it's either pie crust or an American version of shortcrust. If anyone can shed any further light on the matter, please do.)
Shrager flavours her pastry with orange zest, Kinnaird with vanilla, and Aussignac lemon thyme – all good things in themselves, but I'd prefer to keep things as plain as possible, to let the fruit itself shine. Feel free to ignore me if you wish.
The filling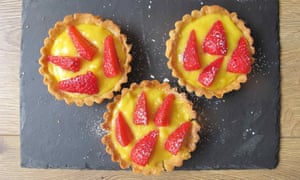 The strawberries in a traditional French tarte aux fraises sit plumply atop a layer of sweet, vanilla-scented crème patissière – a cornflour-thickened custard that forms the basis of a thousand desserts, and is often casually referred to on cookery programmes as "crème pat". Aussignac's version is no exception, and proves popular with testers, although, like Kinnaird's white chocolate ganache, most of us find it so sweet and rich that it steals the show from the fruit itself. The same goes for Shrager's lemon curd filling, against which the poor old strawberries stand no chance.
The simpler fillings favoured by Stewart and Slater prove a better pairing, with the latter's subtly sweetened double cream and yoghurt edging ahead of the low-fat cream cheese and sugar mixture in Stewart's tart on the grounds it tastes "lighter". As this is generally felt to be a good thing, I'll be using whipping cream, which sits somewhere between single and double varieties on fat content, though feel free to substitute double if it's easier to come by. Do not, however, be tempted to replace thick whole milk yoghurt with the low-fat variety; it'll make the mixture loose and unpleasantly sour. A little sugar is all you need. After all, both the fruit and the pastry will add sweetness – but feel free to add vanilla if you like, lemon zest or, my particular favourite, Slater's rose water, another gloriously summery flavour.
The fruit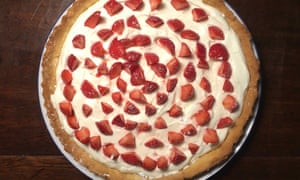 Kinnaird makes a strawberry and pink peppercorn jam to line the bottom of his tart, but, though we agreed we'd all eat this by the spoonful, in peak strawberry season it seems a shame to use anything but fresh fruit. It's also, of course, much easier – you don't even need to macerate the berries in pink wine and honey as Aussignac suggests, though the redcurrant glaze recommended by Stewart does make them look so attractively shiny that I can't resist it.
Standing the fruit on its ends, as in Slater's recipe, means you can cram more on there, though unfortunately I encountered a small supply error on the day I made mine, hence the slight dearth in the picture above. Put on as many as you can reasonably fit – this dessert is all about the strawberries, so gorge yourself before they're gone for another year.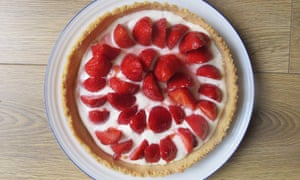 The perfect strawberry tart
(Serves 8)
For the pastry:
200g plain flour
110g cold butter, cut into cubes
65g caster sugar
1/4 tsp fine salt
For the filling:
200ml whipping cream
2 tsp icing sugar
1/2 – 2 tsp rose water (optional)
200g thick whole milk yoghurt
About 500g ripe strawberries
4 tbsp redcurrant jelly or other smooth jam (optional)
To make the pastry, put all the ingredients in a food processor and whizz until they look like damp ground almonds – this will probably take a minute or so. Tip into a loose-bottomed shallow tart tin about 25cm wide, spread out and press with a mug or glass until you have a pastry case. Put in the freezer for 15 minutes until firm. Meanwhile, heat the oven to 180C.
Prick the base all over with a fork, then bake for about 20-25 minutes until lightly golden (overcook it and it will be crumbly). Allow to cool in the tin, then gently transfer to a serving plate.
When the shell is cool, whip the cream to soft peaks, adding the sugar and rose water or other flavouring towards the end of the process, then fold in the yoghurt. Taste and add a little more sugar or flavouring (rose waters, in particular, can vary hugely in strength) if necessary then spoon into the tart shell and smooth.
Hull the strawberries and cut into quarters, or sixths if large, and then arrange, point upwards, in concentric circles. Heat the jelly in a small pan until liquid, then brush over the fruit and leave to set for at least 30 minutes before serving.