Some of you, I know, have had your fill of salted caramel. You're sick of finding it in everything from green tea to cider, still unconvinced by the idea of a savoury sweet, and that famous image of Nigella dripping head to toe in sugary, buttery saline goodness leaves you utterly cold. And I'm sorry for your loss, really I am. Because, to the rest of us, the attractions are all too clear: rich and buttery, with an intense caramel sweetness shot through with maritime undercurrents, it's hard to think of many things that wouldn't be improved by a dollop of the stuff. Certainly, once I had roasted a duck with miso caramel, redcurrant jelly began to look a little passe.
There are limits of course – potato crisps being one of them – but adding salted caramel to a chocolate brownie, squidgy, dark and bittersweet, feels like what might be termed in the brownie's American homeland, a "no brainer", assuming you concede there's any room for improvement. Perhaps we can agree on the fact that a salted caramel brownie is not necessarily better than the ordinary kind, but it's certainly no worse. Which makes it pretty much perfect as far as I'm concerned. (Note that this is also a good way to use up excess Easter chocolate, should such a thing exist in your household, although you may wish to adjust the sugar content depending on the sweetness of the stuff available.)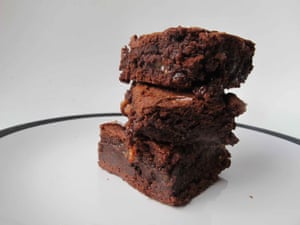 The caramel
This column has covered the basics of both brownies and salted caramelbefore, but together they're a rather different proposition: what works as a standalone sauce does not necessarily have the right qualities for the best supporting actor role in a tray bake. If melting sugar makes you nervous, you can, of course, use ready-made caramel – Jane Hornby in BBC Good Food beats sea salt into the Carnation tinned variety, and Emily Pahl melts caramel sweets into double cream – but if you make it yourself, then you can make it perfect. For me, that means using sour cream, as New York bakers Matt Lewis and Renato Poliafito suggest, rather thanEdd Kimber or Deb Perelman's double cream. Sour cream gives the caramel a subtle tangy flavour that helps to balance the richness of the sugar and butter in there, too. I'm going to base my caramel on Perelman's, however, which uses less cream than some of the others to make it less soft, but still manages, somewhat miraculously, to impress with its silky thickness.
Lewis and Poliafito put corn syrup in their caramel, I think to minimise the possibility of it crystallising in the pan, but as long as you allow the sugar enough time to melt, this shouldn't be a problem. If you are worried, however, then a spoonful of the more readily available golden syrup will work just as well.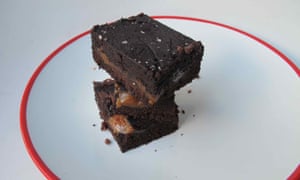 The brownie
Having, in the infancy of this column, laboured hard over my brownie recipe, I'm pretty pleased with it, even seven years on – but, having tasted five alternatives in the course of this week's research, I have to concede it could do with a bit of tweaking to complement the all-new salted caramel filling. That said, I'm still of the school that prefers a dense, but not downright fudgy texture – both Perelman and Lewis and Poliafito's versions, although as delicious as anything calling itself a salted caramel brownie can be, are too solid to take any more richness in the form of extra caramel. Beating the mixture until light and airy, as Kimber recommends, is still my own favoured technique and I'm also, like Nigel Slater, in defiance of many brownie aficionados, going to add a little baking powder, too.
To maintain as much contrast between the two flavours as possible, my recipe will use ordinary white or golden sugar rather than going down the toffeeish muscovado route, and there won't be any caramel in the batter itself, as in Hornby's recipe, for the same reason. Indeed, Perelman observes that many salted caramel brownies are "achingly sweet, as if little consideration was given to the fact that dousing an already-sweet brownie with caramel sauce might cause teeth to hurt/dentists to buy new vacation homes". Like her, I'll be reducing the amount of sugar in the batter to compensate, but, more importantly, I'll be using the darkest chocolate I can find.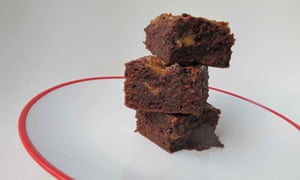 The chocolate
Hornby reckons that "for best results, it's important to use chocolate with the right mix of 70% and 50% cocoa solids [to] help to give the brownies their rich, fudgy texture". Lewis and Poliafito call for a cocoa content of between 60% and 72%; Kimber is roughly the same at between 65% and 75%; and Emily Pahl of the She Makes and Bakes blog, whose recipe Nigella described in 2012 as the "best brownies I ever made", calls for "bittersweet", which, the internet informs me, is almost always more than 50%, but frequently around 70%. Perelman, however, goes the whole hog, and uses unsweetened chocolate, which has historically been more widely available in the US than here, but is now relatively easy to find in large supermarkets. I'm expecting the results to be unpalatably bitter, but, actually, testers love them, on the basis that the intense cocoa flavour helps to counter the sweet creaminess of the caramel. (This also renders the cocoa powder in my original recipe surplus to requirements, and reducing the ingredient count always makes me happy.)
Allowing the melted chocolate to cool slightly before adding it to the batter, as Kimber recommends, is a very sensible idea to avoid the risk of any cooking occurring.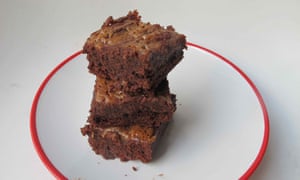 The assembly
Tip salted caramel sauce into brownie batter and bake it to witness the miraculous case of the disappearing caramel – it melts into the batter as it cooks, which may taste nice, but disappoints anyone hoping for gooey strands of molten caramel.
I try several tactics in the hope of remedying this problem. Kimber and Hornby's recipes call for me to layer the caramel between two layers of the batter, almost as if I'm filling a sandwich cake. Kimber's proves hard to spread, and, although Hornby's tactic of distributing the caramel in a series of thick lines, rather than a continuous sheet, is easier to effect, neither results in pockets of caramel in the finished brownie. Lewis and Poliafito simply pour it on top, like icing, which isn't popular with my testers – there should be some mingling between the two . Pahl gets around the mingling problem by adding the caramel to a layer of half-baked brownie and then topping it with the remaining batter, but this simply results in an overbaked base – the caramel has still largely melted into the batter above.
I conclude, in a sugar-filled pit of despair, that to have any chance of success, the caramel must be thicker than average, and, crucially, as Perelman observes, it must be solid, in pieces "cold and big enough that they take longer to disappear into the the batter than the batter takes to bake". She freezes hers, but I find this too effective, leaving me with chunks of solid toffee when I had hoped for oozing caramel. Chilling until soft and chewy, but not actually hard, seems like the better option.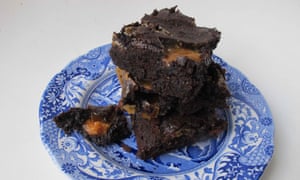 The extras
Perelman, Lewis and Poliafito and Kimber all add vanilla to the batter, which, although not absolutely necessary, works very well with the flavour of the caramel. Also very much optional, but a great improvement as far as I'm concerned, is a sprinkling of toasted nuts to add a little crunch to proceedings. Nuts and caramel, and nuts and brownies are both classic combinations, so, although none of the recipes I try includes them, to leave them out seems like a dereliction of gastronomic duty. I favour pecans, but peanuts, almonds or even walnuts would work – or indeed none of the above, as you prefer. They will be delicious, whatever you add.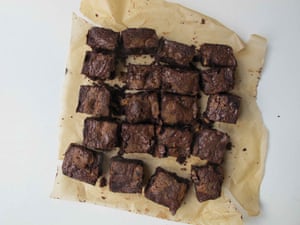 Makes 25
200g very dark chocolate, as dark as you can find
250g unsalted butter
250g caster sugar
3 large eggs, lightly beaten
1 tsp vanilla extract (optional)
120g plain flour
½ tsp baking powder
Pinch of salt
100g pecans, or nuts of your choice (optional)
For the caramel

110g caster sugar
55g butter
4 tbsp sour cream
½ tsp flaky salt
Start by making the caramel. Line a plate or shallow bowl with lightly greased baking parchment. Melt the sugar in a medium pan over a medium-high heat until a rich amber, stirring occasionally to break up chunks. Take off the heat and stir in the butter, followed by the cream and salt, until melted. Pour on to the lined plate and chill or freeze until solid, but still soft enough to scoop (about 40-55 minutes).
Meanwhile, melt the chocolate in a heatproof bowl set over, but not touching, a pan of simmering water (or use a microwave). Allow to cool slightly, stirring occasionally. Heat the oven to 180C/350F/gas mark 4, and line a 23x23cm baking tin with baking parchment. Toast the nuts, if using, in a dry pan until fragrant, then roughly chop.
Once the caramel is almost ready, beat the butter and sugar together until light and fluffy. With the mixer still running, gradually add the eggs, beating well between each addition to ensure they are thoroughly incorporated before pouring in any more. Leave mixing on a high speed for 5 minutes until the batter has a silky sheen, and has increased in volume.
Remove the bowl from the mixer, and gently fold in the melted chocolate and vanilla with a large metal spoon, followed by the sifted flour, baking powder, salt and nuts.
Spoon half the mixture into the tin and make about 8 small divots on its surface then spoon generous blobs of caramel into them, reserving a quarter for the top. Spoon on the rest of the batter. Dot the remaining caramel over the top and bake for 30 minutes. Towards the end of the cooking time, prepare a sink with enough iced water to come halfway up the side of the tin.
Test the brownies with a skewer; it should come out sticky, but not coated with raw mixture. If it does, put it back into the oven for another 3 minutes, then test again. When ready, carefully lower the tin into the sink, then allow to cool before cutting into pieces and devouring.