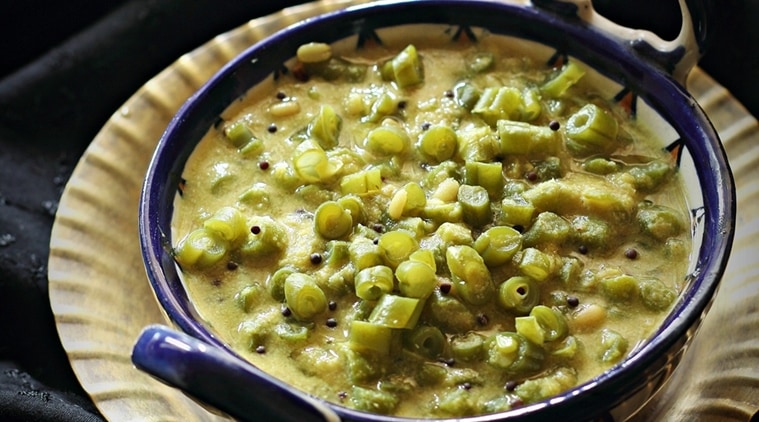 A Mulagootal is a very typical preparation of the Palakkad Iyers. It is made usually using one type of vegetable (traditionally amaranth leaves, raw banana, yam, pumpkin, ash gourd or snake gourd though nowadays beans, cabbage, carrots, etc are used; this list of vegetables is not exhaustive) and occasionally a combination of two vegetables like raw banana and yard long beans.
The vegetable is cooked with red gram lentils (or sometimes split moong lentils) in a coconut gravy but no chillies or pepper is used making this rather bland yet very tasty. I , however, like to add a green chilli (the less spicy variety) while grinding the coconut paste as this lends a nice flavour without the "bite". Since a mulagootal is bland, it is always served in combination with a spicy and tangy preparation like a puli pachadi (made with tamarind) or a thayir pachadi (made with yogurt) or a pulikyatchal ( a very spicy and tangy chutney made from green chillies, ginger and tamarind). If one is feeling lazy and not upto preparing a second dish, then a spicy pickle or a podi would do just as well.
Here, the vegetable in my mulagootal is beans but you can make this with a vegetable of your choice following the same recipe.
Beans Molakootal
Ingredients (Serves 4)
2 cups-Thinly sliced green beans
1 cup- Cooked and mashed red lentils (tuar dal)
¼ tsp- Turmeric powder
Salt to taste
1 sprig- Curry leaves
For the coconut paste
¾ cup- Freshly grated coconut
1 ½ tsp- Cumin seeds
1 tsp- Black gram lentils (urad dal)
1 Green chili (optional)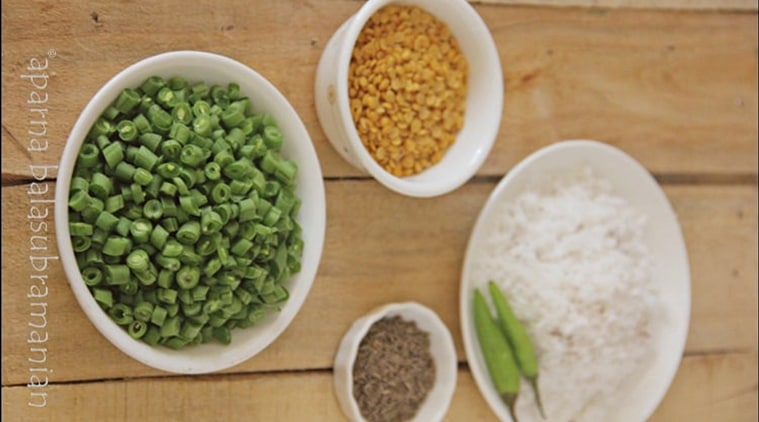 The mulagootal is made with just one vegetable and tuar dal. (Photo: My Diverse Kitchen)
For the tempering
1 ½ tsp- Coconut oil (or sunflower oil)
1 tsp- Mustard seeds
1 ½- Black gram dal (urad dal)
Method
* In a pan, put in about ¼ tsp oil and put in the 1 tsp black gram lentil (for the paste). Sauté till it starts turning golden. Add the cumin seeds and sauté till it just till it gives off an aroma. Do not brown it. Grind the sautéed lentil and cumin seeds with the coconut and green chilli, adding just enough water to obtain a smooth paste. Keep aside.
* In the same pan (or another one), put the green beans, turmeric powder and salt along with 1 1/2 cups of water and bring to a boil. Turn down the heat and simmer till the beans are well cooked
* Alternatively, you may cook the beans in the microwave till done and then put it on the stove with turmeric, salt and about 3/4 cup of water and bring this to a boil. Then turn down the heat to medium.
* This is what I do. I find it quicker and also like it that the beans retain their green colour.
* Now add the mashed red gram lentils and the curry leaves. Mix well and allow to simmer for about 5 minutes. Add the coconut paste, stir again and allow to come to a boil. After about 2 or 3 minutes turn off the heat and transfer to a serving bowl.
* In a small pan, heat the 1½ tsp oil for tempering. Put the mustard seeds in and when they splutter, add the black gram dal and stir till it becomes golden in colour. Pour this into the mulagootal and stir before serving.