Bengali cuisine is one of the most versatile cuisines in the melting pot of unique regional dishes that every state in India offers. Trying to find something authentic away from the homeland is always difficult, but there's a Bengali hub in Delhi that recreates similar magic and will not leave you disappointed. Whether it is a subtle fish curry or a fried mutton cutlet or a soothing sweet treat, Delhi has learnt to relish and embrace the innate bengali-ness of all these dishes. You may have heard of the Bengali paradise by now and if you haven't it exists in Delhi's Chittranjan Park (CR Park). You'll find everything here, from Kolkata's famous street foods like puchka to the all-time favourite mishti doiand everything in between. For now, we'll try to satisfy the sweet spot on our tongue.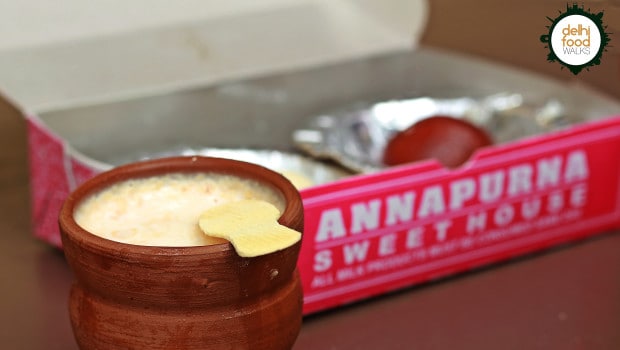 The first sweet shop is the beloved Annapurna Sweets
, which happens to be very famous for its Rosogullas and Mishti Doi. Every time you pass it, you can smell the sweet fragrance of sugar in the air. We suggest you try their Kheer Kodom which is a khoya dumpling stuffed with a rasgulla!
Your next stop should be Kamala Sweets
. We recommend the Sandesh here. They have a wide variety of Sandesh to choose from which also includes flavours like strawberry and chocolate giving a modern twist to the traditional one. We absolutely loved the Jal Bhara Sandesh that was perfect for people who do not like their desserts too sweet. The unusual litchi-flavoured Sandesh was definitely an interesting one out of the whole lot we tasted.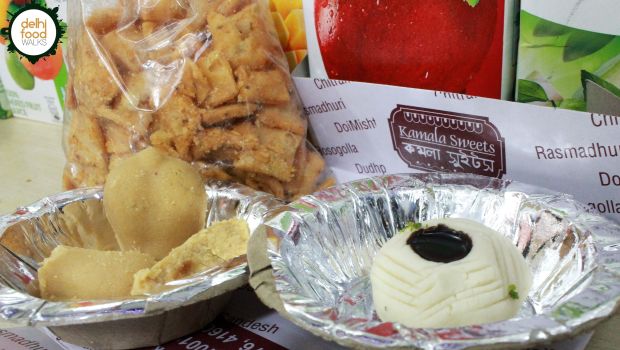 Finally, you must not leave without paying a visit to Rasoraj Sweets
. We found this while looking for 'shingaras' which is a Bengali version of a samosa that also has a sweet variety. The shingara was good, but the rosogulla here is the recommended sweet. It is different because of the use of jaggery, the famous 'Nolen Gur' from Bengal and is also available in a baked variety which is essentially a baked rasgulla frozen with rasmalai.  
Also, their crisp kachori is the perfect way to start an evening (especially if you are grabbingchaifrom the nearby Raju Da's Singing Tree).
Being foodies with a sweet tooth, we have hunted down many sweet shops but nothing beats the Bengali treasure that we happened to have stumbled upon in Chittranjan Park.